Since we moved into our new house 7 months ago, I have found that things that I normally put in one place just don't fit anymore. We live in a more ranch style home now, and I used up all my green wreaths on the front windows this year. That left my front door a little bit BLAH! Never fear! My thrifty self came up with this...and I'm loving it.
Can you say $1 wreath? Well, only $1 for the wood wreath itself. The dropcloth, ribbon and center I had around the house.
I cut like a bazillion strips of the drop cloth and tied them all around the wreath form.....added some red gingham ribbon around it and added my snowflake bell decoration to the center...LOVE IT!
It's Christmas-y, shabby, and cheap!
Just the way I like it!
I'm sharing this at....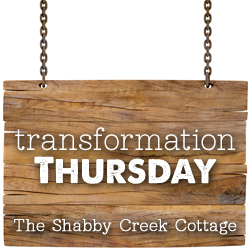 Happy day all!
sue