Now, this might have been my craftiest morning ever! Ha! I somehow found the time to make 40 chocolate dipped and sprinkled pretzel rods (packaged and decorated with tags) and 40 Halloween treat sacks for the kids school parties this week! I also got all my supplies together to make the kids their trick or treat bags...but that's another post!
So here's what was going on in and around my kitchen all morning!!
These are just simple white treat sacks that I filled with spider rings, ghost pops, stickers, and cute halloween erasers for Emma's kindergarten class. I "pinched on" a sweet vintage Halloween tag using a decorated clothespin...
The vintage Halloween cards are from Stampington and Company...(did I mention I love them soooooo much???)
My cute little Halloween clip to keep all the insides together....I hope the kids enjoy their treats!
Recycled Tags
These are my nod to recycled art....I bought this pack of mini puzzles to put
in the treat bags and they had a cardboard backing....well, I thought these would make great little tags!
So, out c ame our spooky skeleton and a halloween stamped greeting and voila!
I used these tags on Jacob's treat bags.....love to re-use items!
Jacob's treat bags....filled with puzzles, candy sticks, stickers, and dum-dum pops!
I added a long pretzel in the side, then folded over the edge and stapled our cute little tag to close it all up!
The bags are also from Stampinton and Company. I added a stamped swirl on the top and bottom of each.
Chocolate tipped pretzels...yummy!
Found the circular halloween stickers at Walmart....way cheap!
I punched out a scalloped circle and added the sticker in the center.
These were leftover treat bags fron last year. I split the pretzel and dipped both ends to
make them fit in the bag (necessity is the mother....)
I made a topper out of some of my polka dotted paper that I sooooo love!
SO NOT MY HELPER....
doesn't she look sneaky???
She is. Very.
I'm linking this post up at....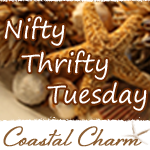 and at...
http://makingtheworldcuter.com/2011/10/making-the-world-cuter-monday-43/